No more dangling wires – behind the neck design
Whether you are running, cycling or just hitting the gym, nekFIT™ locates your iPod Nano and Shuffle comfortably behind the neck eliminating tangled wires. Offering complete mobility, nekFIT makes it simple to change music and volume with faster-feel tactile buttons on the click wheel. nekFIT frees you to listen to your music anywhere doing anything.
The perfect fit – loose & on the shoulders
nekFIT was ergonomically designed to be loose and sit comfortably on your shoulders. The choice of three sized flexible iPod clips let you find the most comfortable feel and resting the iPod "down" on the shoulders creates the perfect fit.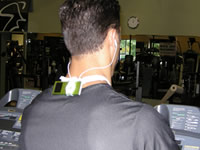 Proven body location for centuries –
the shoulder muscle
For centuries, the shoulder muscle which covers the back of the neck down your spine has been the preferred carrying location on the body for everything from water buckets to student backpacks. Imagine how light a "1 ½ ounce" iPod Nano feels sitting on one of the body's strongest muscles.